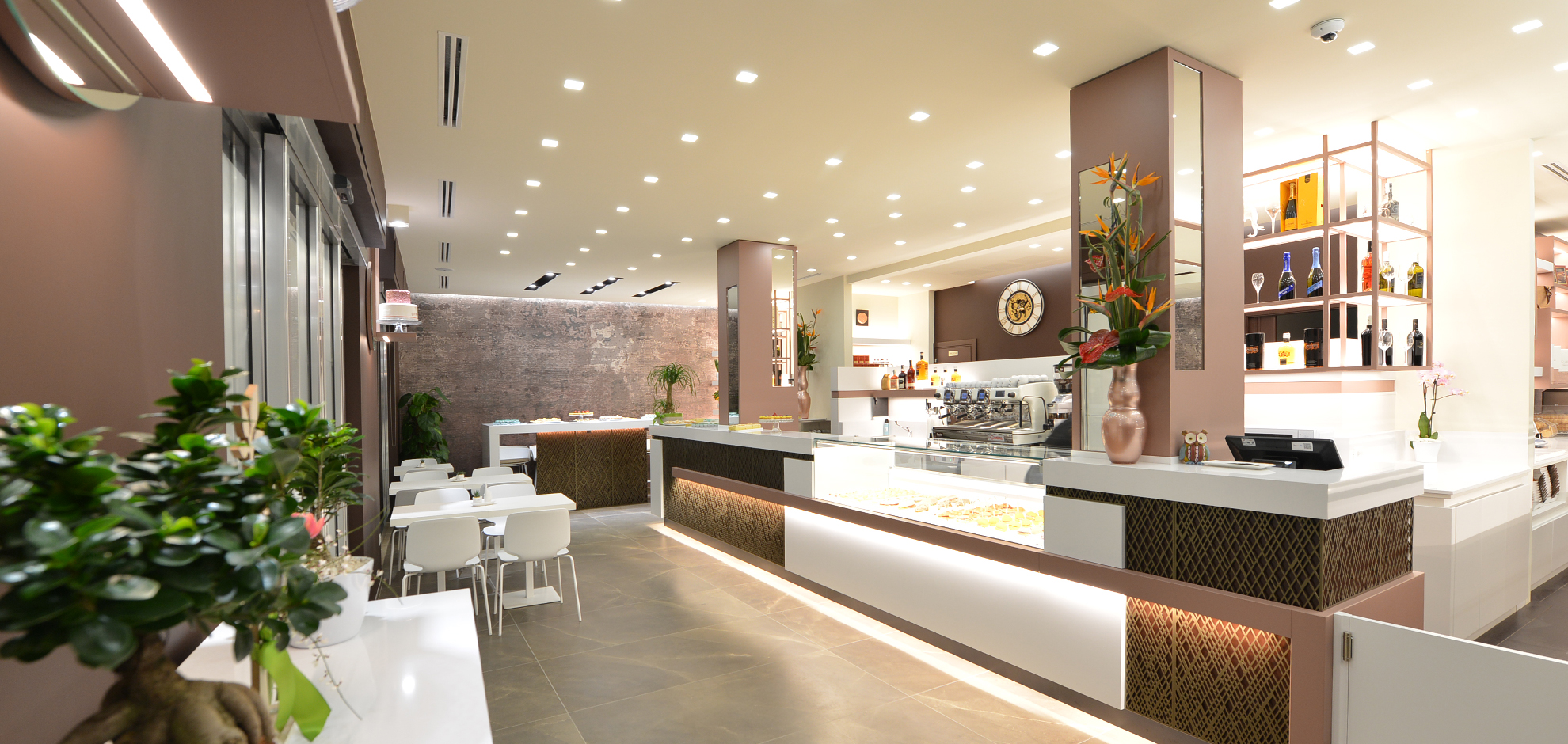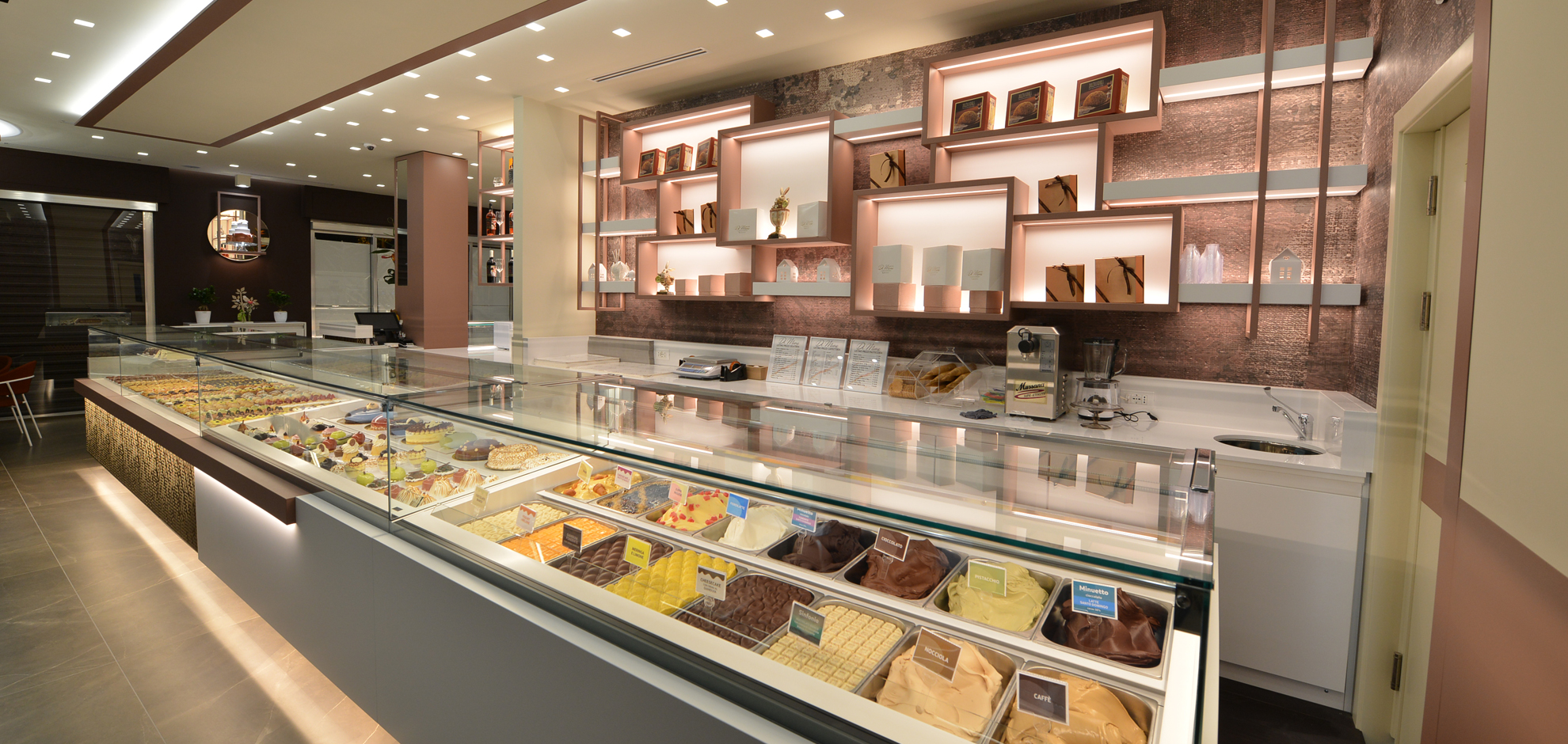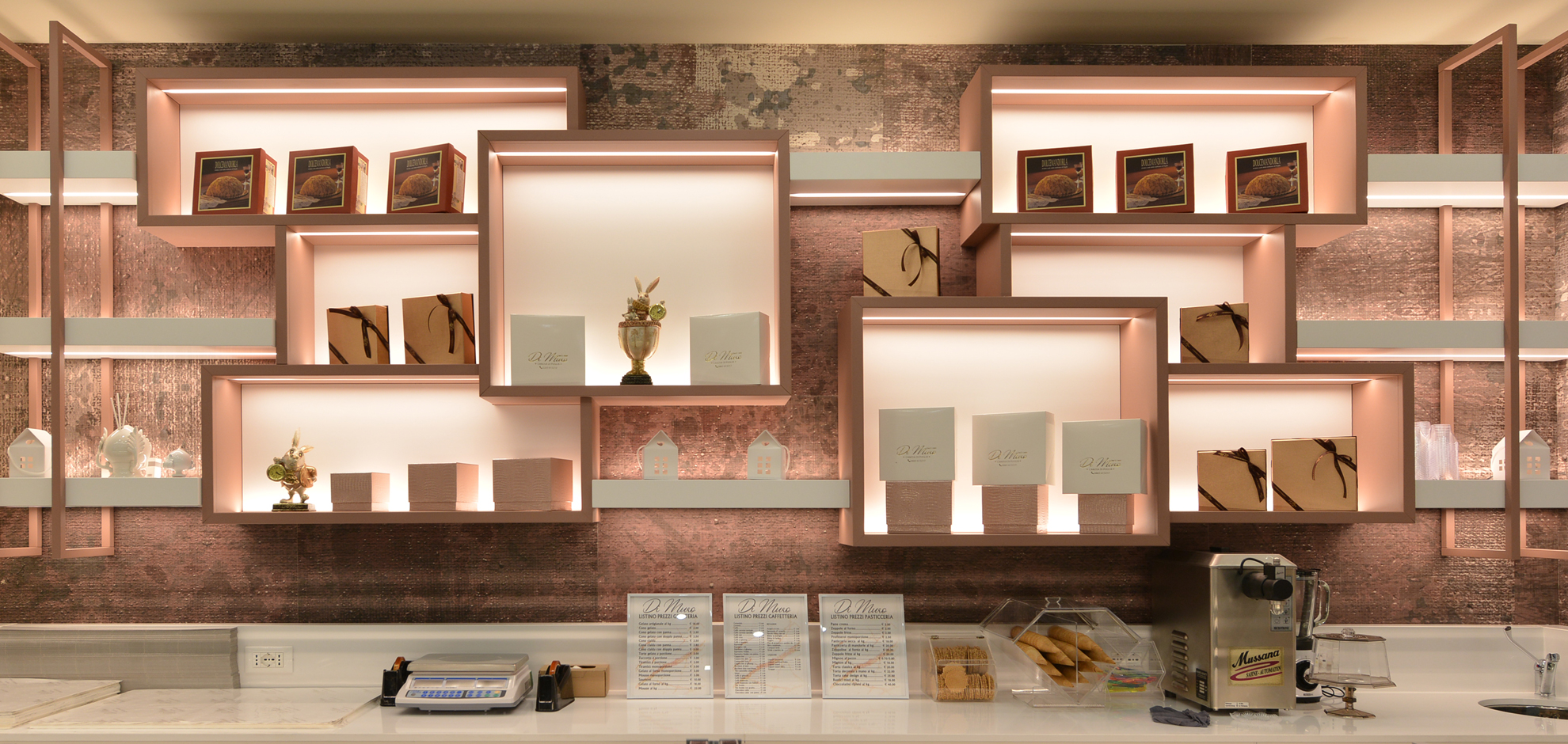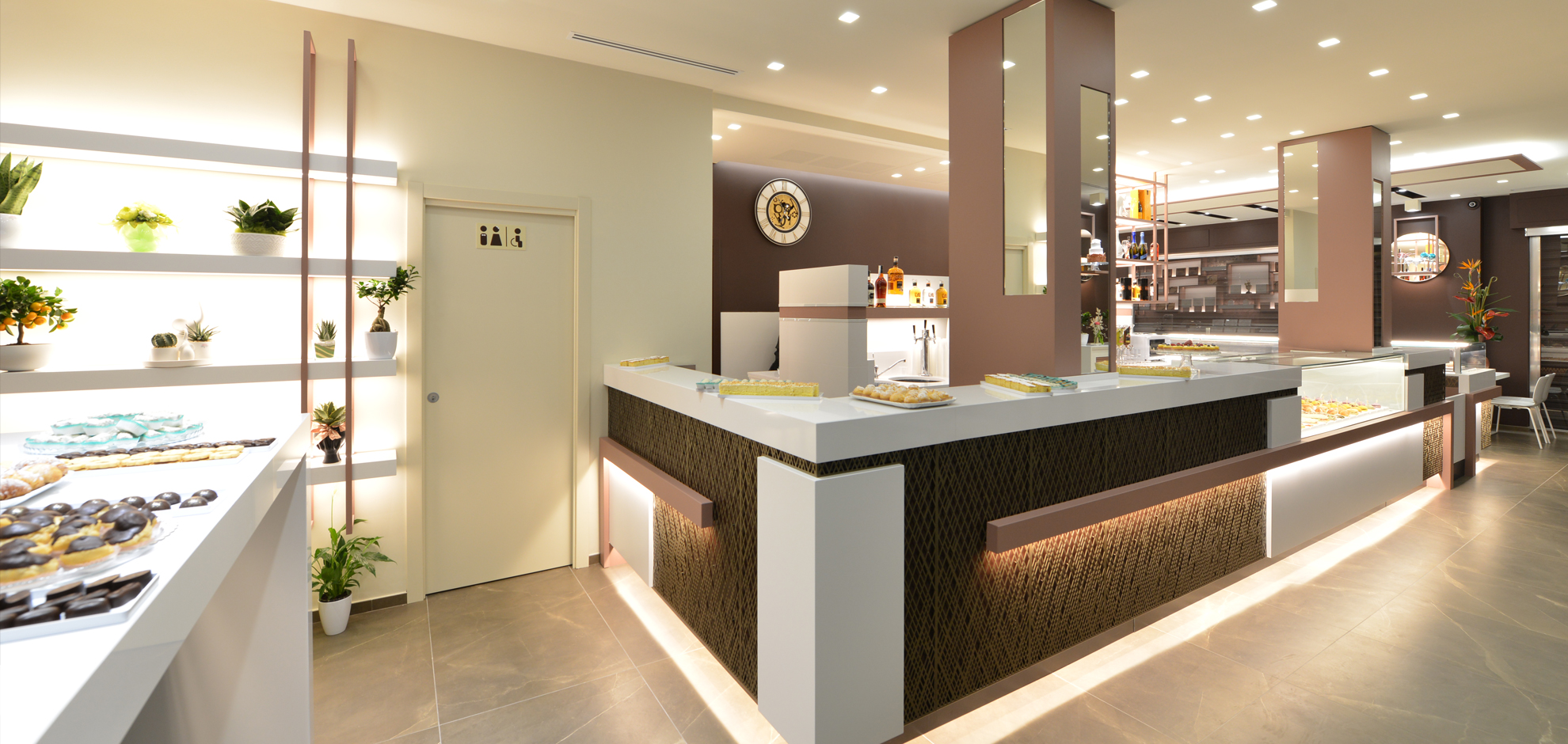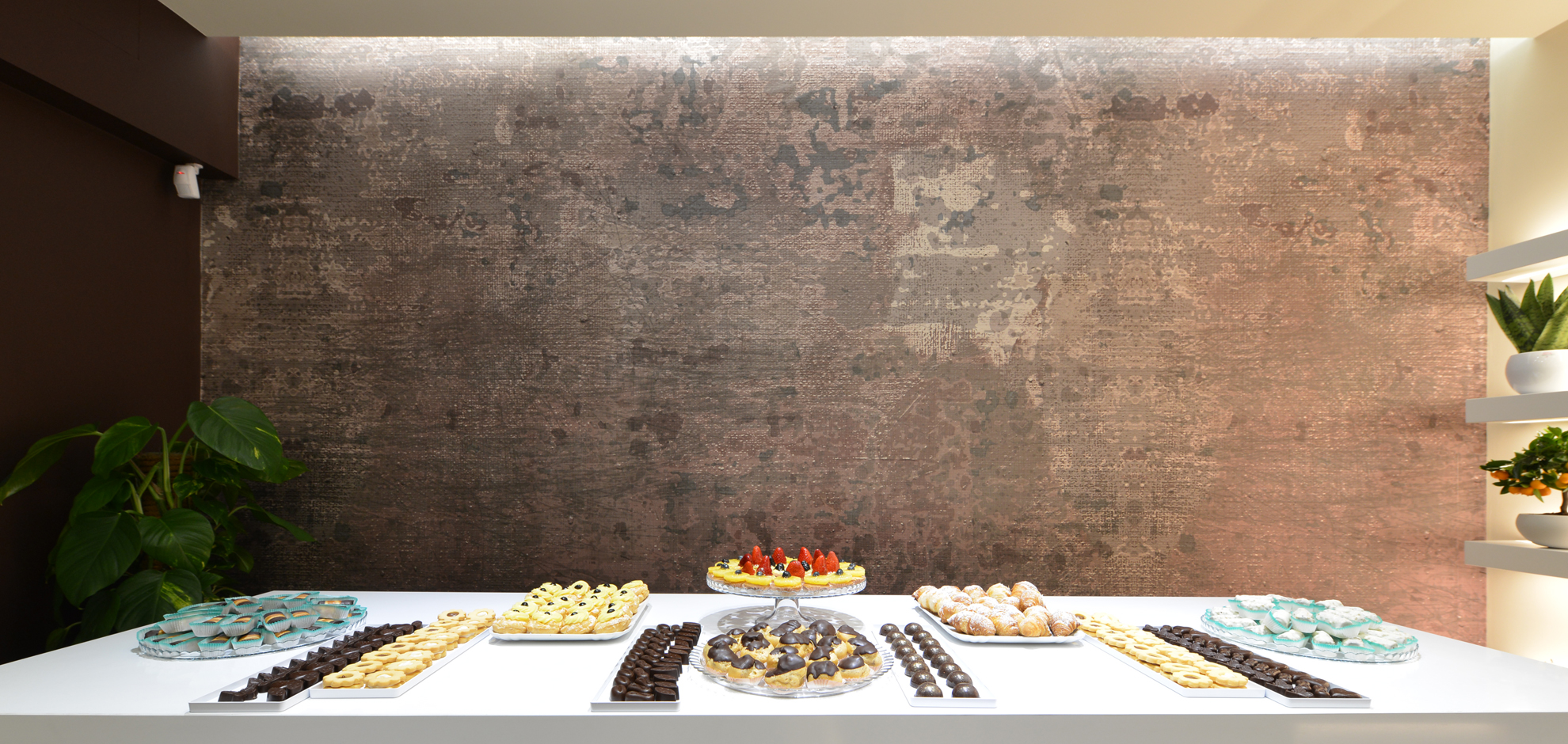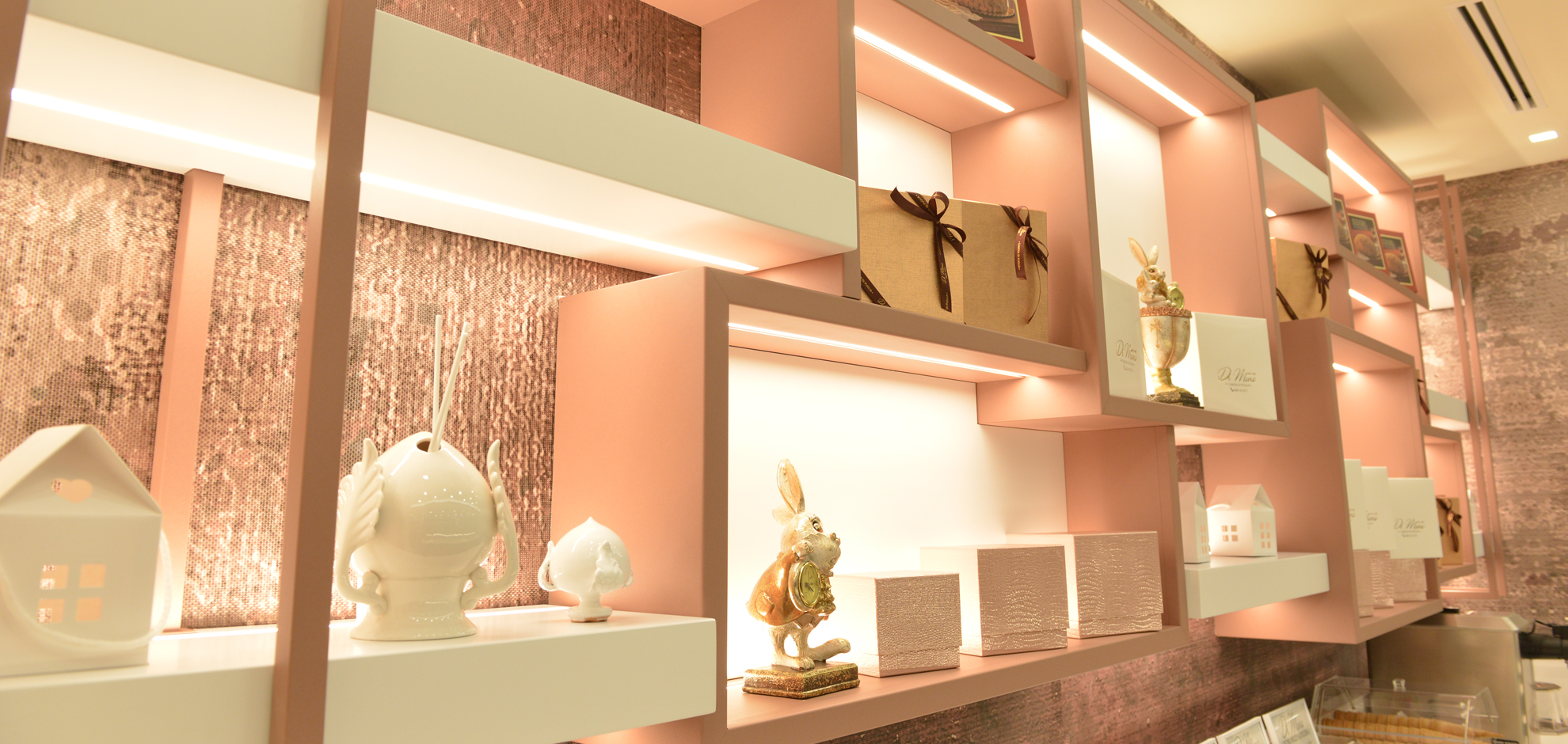 Di Muro Pastry shop
The wallpapers by Inkiostro Bianco are "sweeter" than ever.
The well-known Pasticceria Di Muro is located in Canosa di Puglia, a beautiful town of great historical and archaeological interest, and it was born from a great relationship of mutual understanding and esteem, cultivated over the years, between the designer, who designed the whole project, and the Di Muro family.
Starting with the head of the family Andrea and then continuing with his sons Sabino and Mena, the business, founded in 1969, is managed with great passion. On the occasion of the 50th anniversary of the pastry shop, the owners have decided to rethink the interiors of its premises and has entrusted this important and demanding work to the designer Giuseppe Conte.
The aim was creating a room that could enclose a high functional and operational level, combined with an aesthetic of great impact that offers patrons a welcoming perspective and guarantees excellent visibility to the products (all exclusively handmade).
From here comes the project, composed of technological elements among the best on the market today, both from a technical / functional and aesthetic point of view, for example company CIAM Group has participated in the supply of this realization.
Equally important the various elements and accessories, as well as the materials, type of processing and finishes have been the subject of careful study.
"With such a project based on a visual impact refined in every detail," says the designer, "I absolutely could not neglect "the casing". It was necessary to find the right scenography, which would guarantee that I could enhance every detail designed and created in the best possible way".
According to this inspiration, the vinyl wallpaper by Inkiostro Bianco has been inserted in strategic points of the venue, so as to be harmonious with the whole context of the project. The chosen graphics give an effect like a wall or a slightly peeled backdrop, but with warm colours it perfectly matches the rest of the interior of the room.
"The final result of my project is in front of everyone's eyes and I'll let that be the one to talk. The biggest thanks, in addition to all the operators, certainly goes to the Di Muro Family, who gave me the opportunity to fully express myself".
These are the designer's concluding words that show the pleasure of working with a familiar reality and in collaboration with high level companies that give great value to the customer service and do everything possible to offer a support that goes from the aesthetic choice to the technical application.
Designer: Giuseppe Conte
Place
Canosa di Puglia, BT, Italia