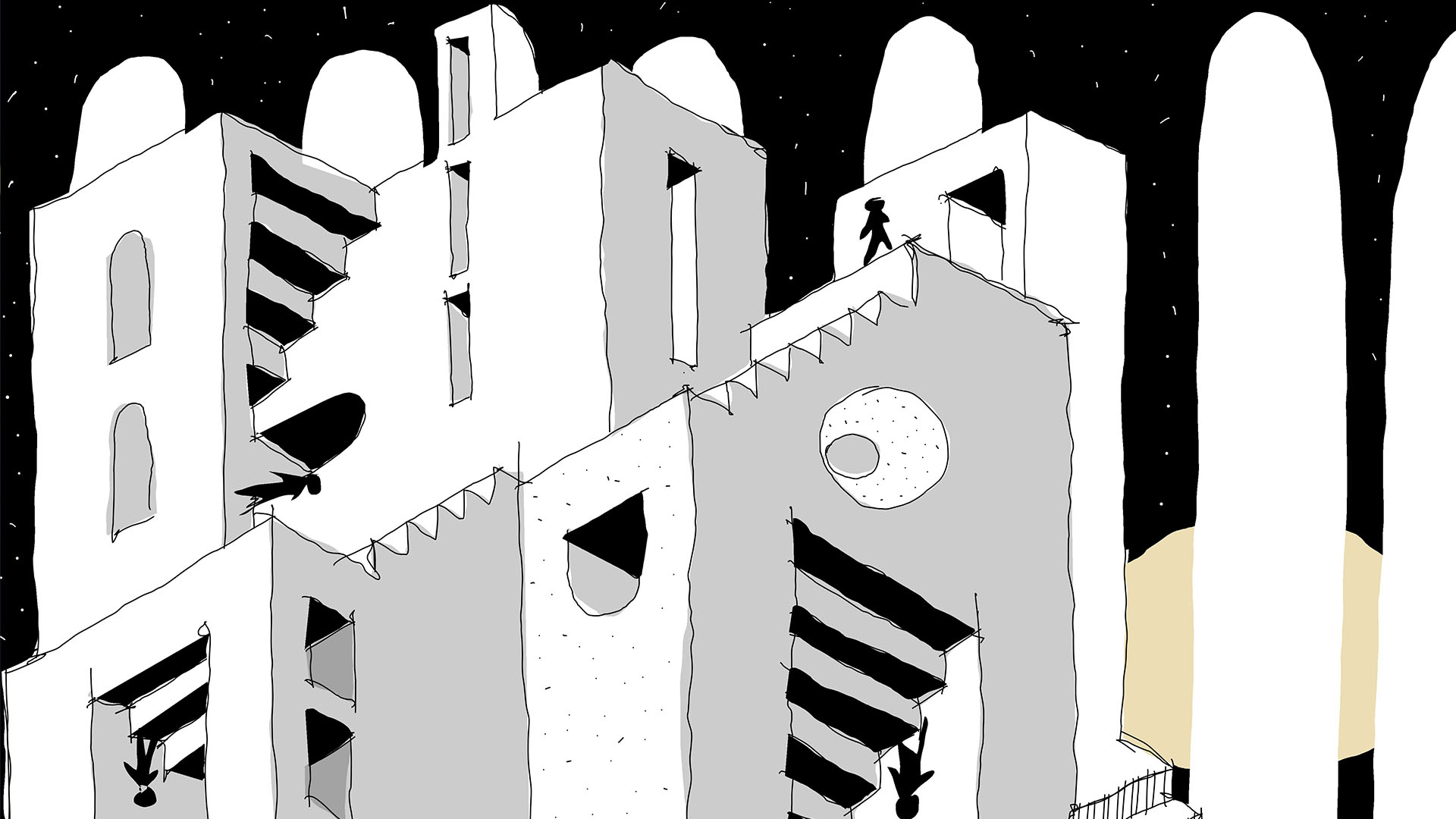 Italian by birth, architects by profession and travelers by vocation, Virginia Valentini and Francesco Breganze de Capnist are two designers and dreamers.
Their partnership is not only professional but also in real life. As husband and wife, they share a deep creative and research affinity.
After graduating t Politecnico in Milan, they moved overseas in 2016 and opened their first studio in New York, starting to sign several interior architecture projects.
Their experience leads them to formulate an unconventional type of interior design, but their passion for their roots, for Made-in-Italy craftsmanship and for Italy's rich artistic and architectural heritage are an irresistible draw.
Hence the idea to return to Italy and found LATOxLATO, a design workshop that ranges with the same dedication from large-scale architectural design to the most minute product detail development. LATOxLATO's main objective is to create contemporary projects with a modern approach based on the synergical and constant dialogue between art and architecture.
LATOxLATO devotes itself not only to interior design but also to product design working side by side with excellent craftspeople precisely because of this desire to preserve and give value to Made in Italy.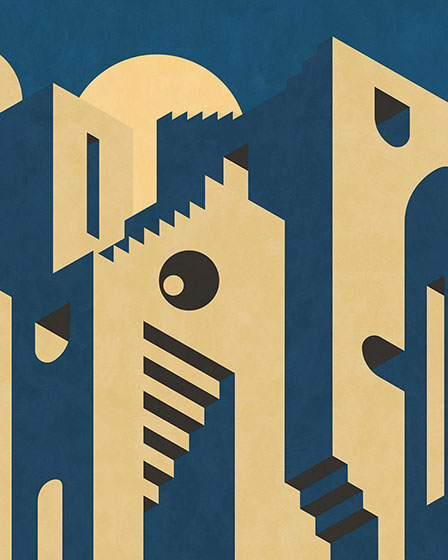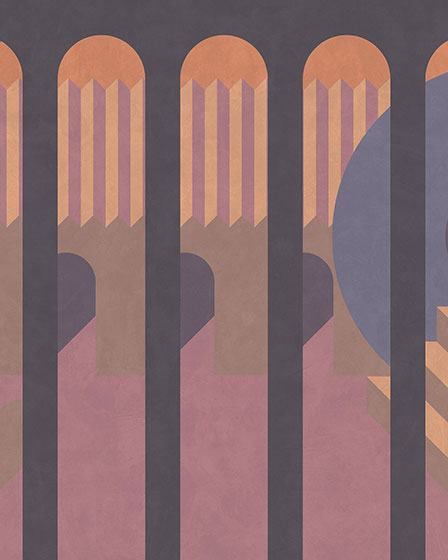 By keeping our minds and eyes open to the world we always find new inspirations, this was the great meeting point between Inkiostro Bianco and LATOXLATO.
The curiosity towards what is new and different from us, drives us to observation without judgement and the search for new contaminations. The desire to create something aesthetically satisfying is mixed with the desire to challenge conventions and express us without restraints.
LATOXLATO's contribution in the wallpaper collection Flow represents this curiosity. A challenge is posed to the imagination of the observer: what happens inside that space? What do I see outside that building? Starting with a glimpse, the imagination can create entire parallel worlds.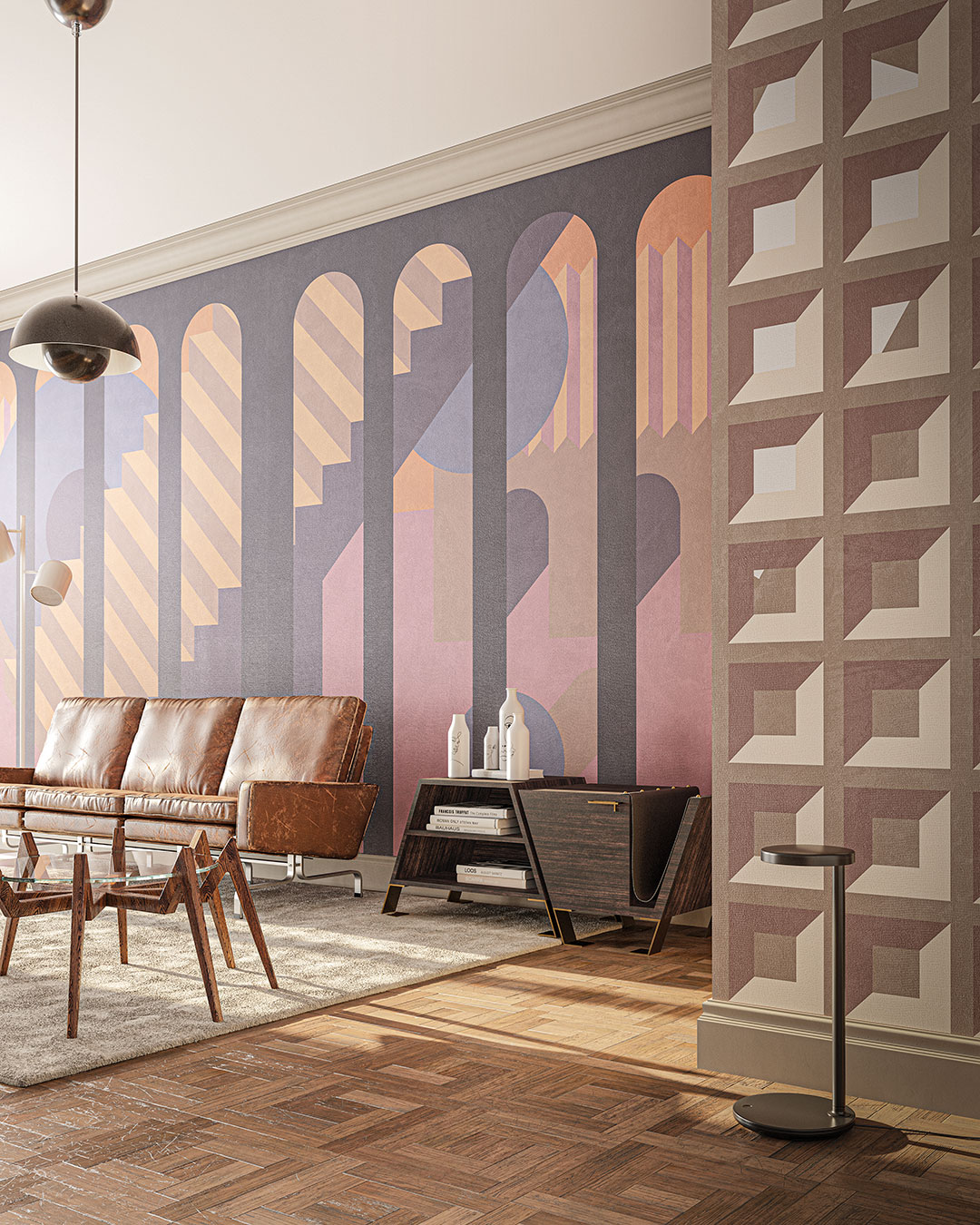 Their graphic designs celebrate the synergy between art, architecture and design, inspired by metropolitan architecture seen through a metaphysical eye.
If 'Archscape' and 'Metropolis' represent the city and what you can see when looking out the window of a skyscraper, 'Bossage' and 'Coffer Mania' invite you to look towards an interior from the outside. In the former, the city is overcrowded with elements: volumes, stairs, windows, lights, shadows cast on the walls of buildings. The metropolis appears at the same time mystical and frenetic, and it almost seems as if the viewer distances himself from it and prefers to admire it from inside their home, without being able to get any closer. In the second case, on the other hand, the viewer is outside and, while walking around, snoops around inside the flats. All it takes is a small light switched on inside a room to capture the attention of the passer-by, who begins to fantasize about what the room looks like, who lives there …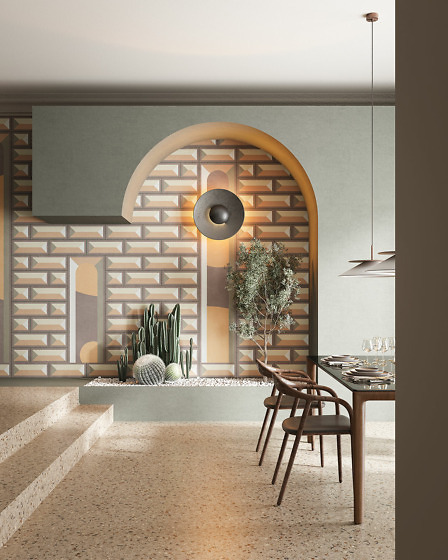 The research is about the relationship between interior and exterior in architecture and everyone is free to give their own answer, positioning themselves between dream and fantasy. The collection is food for thought, representing unexpected architectural elements and leaving room for the observer's imagination to interpret the metropolis in his or her own way.
Just like in front of a painting, only by standing still and contemplating the work can one grasp those details that arouse the strongest emotions. In this context, Inkiostro Bianco wallpaper is the perfect medium on which to express them within an interior design project.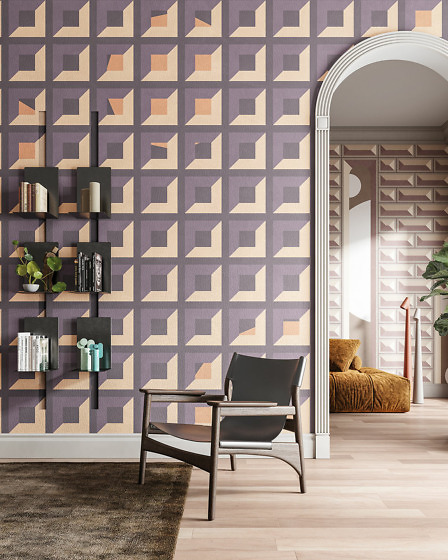 Prev
Next