Pininfarina Architecture presents a comtemplative installation CERSAIE 2021 and chooses Inkiostro Bianco among the wall decorations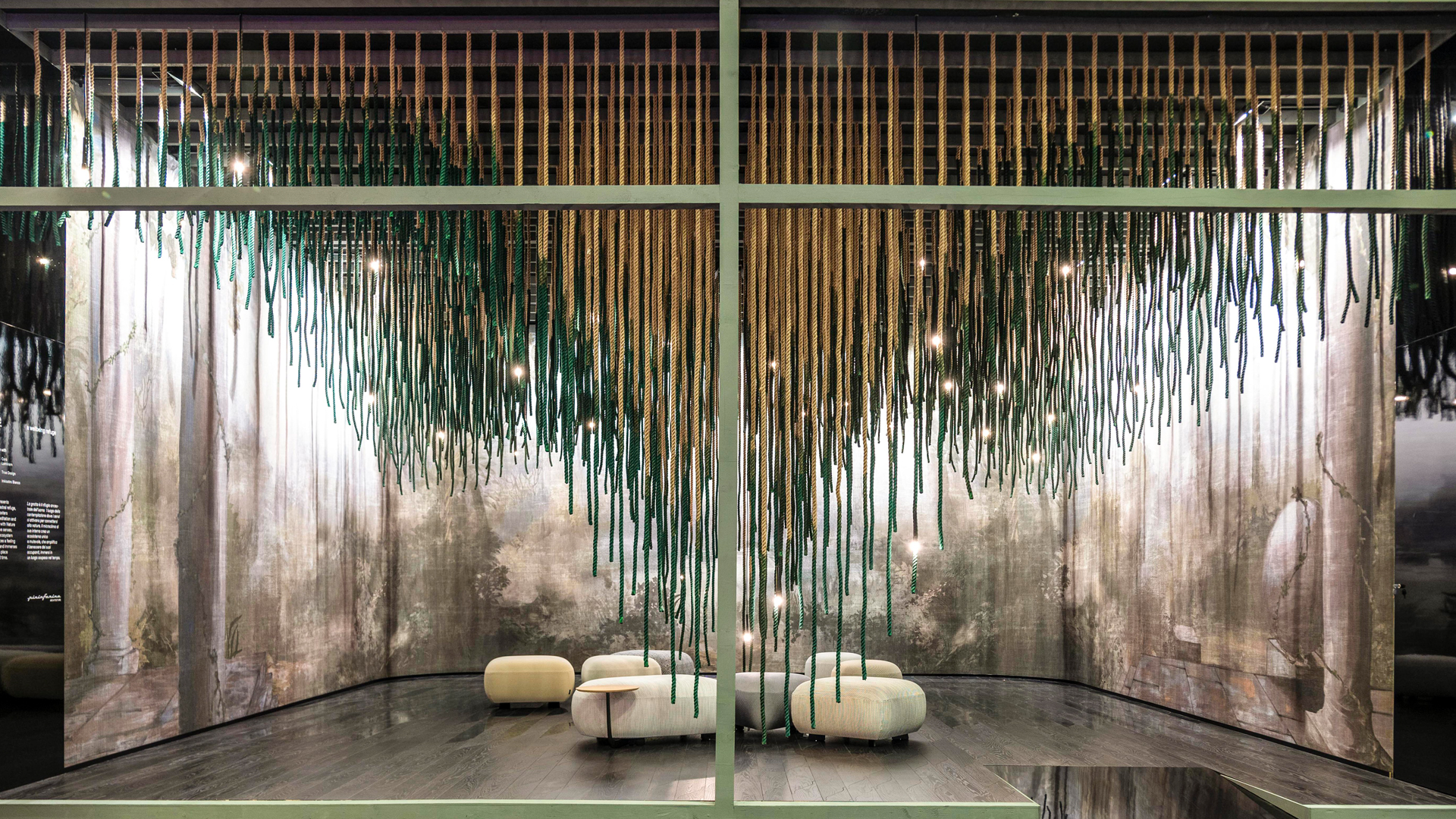 14 October 2021
Pininfarina Architecture presents a comtemplative installation CERSAIE 2021 and chooses Inkiostro Bianco among the wall decorations
The Inkiostro Bianco wallpaper creates the right ambience for the scene with a customised graphic design
Pininfarina Architecture is unveiling a site-specific installation called "the Cave" at CERSAIE 2021, the international exhibition of ceramic tile in Bologna, Italy. More specifically, the Cave is featured within Archincont(r)act initiative, in which ten of the most influential and internationally renowned architecture firms were called to ideate a concept for outdoor spa and wellness.
Exploring the interconnections between physical and mental well-being and the built environment, Pininfarina elaborates on the role of architecture through a space inspired by a cavern, intended as human's ancestral refuge, a place that fosters meditation and connection with Nature throughout all five senses. With its distinct ecosystem, the Cave provides mindfulness sensations, enhancing a feeling of wellbeing while seamlessly accompanying the users in a place that feels like suspended in time.
The Cave imitates a natural refuge overlooking a green space reproduced by wallpapers designed together with Inkiostro Bianco and inspired to the 'boscherecce', eighteenth-century frescoes which are unique in historical buildings of the city of Bologna.
The connection with nature is clearly perceived in all the stylistic choices of the stand, starting from the wood flooring designed by Pininfarina for Corà, characterized by geometrical patterns inspired by natural elements integrated with ceramic components produced by Laminam.
The ceiling is studded with a constellation of ropes of various lengths that recall the incredible spectacle of
stalactites, which are slowly but relentlessly formed by the overlapping of small drops of water pervading the rocks, manifesting, in all their power, the incredible uniqueness of natural environments. The selection of furniture was made in collaboration with True Design, presenting a system of modular puffs suitable for outdoor use, which recall the calcareous stones present inside a cavern.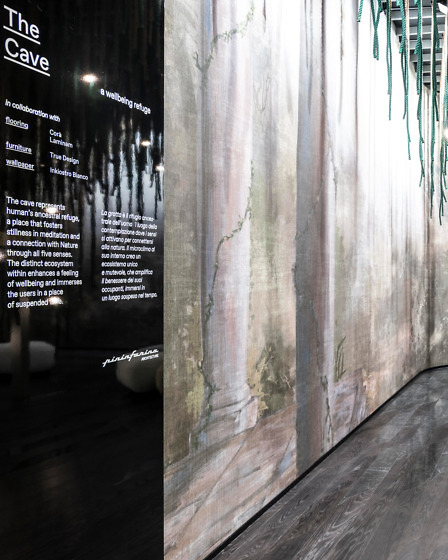 Inkiostro Bianco is proud to offer its contribution to the realisation of Pininfarina's installation.
Wallpaper becomes a means of communication that experiments with different languages through images. It offers the opportunity to design an immersive space by creating a link between the conceptual and its practical realisation, so that from visual language it translates into strong emotionality.
The initial briefing was based on a centuries-old, primordial natural setting, with lush vegetation and colours in shades of green, water and earth. Additional elements were added, such as abandoned and time-worn ancient architecture on the edge of a lonely lake where the only sound you can hear is the water of a flowing waterfall.
A view that invites you to close your eyes and use your other senses to fully perceive all the elements that this natural and artificial environment has to offer at the same time.
An impressive installation in cooperation with an internationally – renowned design house which gave us the opportunity to express the high communicative and emotional potential of our product.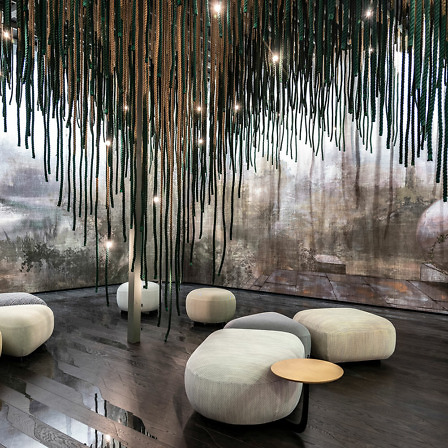 Prev
Next